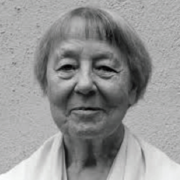 Dorothea Mier se narodila a vyrůstala v Anglii, kde vystudovala hru na klavír na Birmingham School of Music a na Royal College of Music. Eurytmické vzdělávání absolvovala u Ley van der Pals v Dornachu, kde poté učila 17 let. V letech 1959 – 1980 působila v jevištní skupině Goetheanum Eurythmy Ensemble pod vedením Marie Savitch.
Od roku 1980 vedla eurytmické vzdělávání ve Spring Valley v USA. V posledních letech učí na kurzech eurytmie po celém světě.
Kurzy Dorothey Mier se vyznačují jemnou muzikalitou, jejím svěžím humorem a nedogmatickým, hledajícím postojem vůči eurytmii.
TERMÍN
11. – 12. ledna 2020
MÍSTO KONÁNÍ
Sál penzionu Šimanda, Šimanovská 47, 198 00 Praha 9 – Kyje, www.simanda.cz
OBĚDY A UBYTOVÁNÍ
Do konce prosince je možné si objednat vegetariánské obědy, které budou v nabídce v místě konání.
Pro účastníky semináře je možnost ubytování v penzionu Šimanda za 500,-/ noc včetně snídaně. Zájemci si rezervují ubytování samostatně na recepci penzionu pod heslem "kurz eurytmie".
KURZOVNÉ A KAPACITA
Běžné kurzovné 2 300 Kč.
Zvýhodněné kurzovné pro členy spolku Eurythmea 2 100 Kč.
Zvýhodněné kurzovné pro přihlášené studenty 1 000 Kč.
Seminář je omezen počtem 35 účastníků.
PŘIHLÁŠKY A INFORMACE
Miroslava Knedlová, info@studium-eurytmie.cz | +420 734 763 359
Zálohu ve výši 800 Kč posílejte na 2400848755/2010, do poznámky uveďte "příjmení, kurz Mier, eu. vzdělávání".
https://www.studium-eurytmie.cz/wp-content/uploads/2018/11/logo.png
0
0
Minka Knedlová
https://www.studium-eurytmie.cz/wp-content/uploads/2018/11/logo.png
Minka Knedlová
2019-08-01 08:10:48
2019-11-18 12:20:39
Víkendový seminář s Dorotheou Mier 11. -12. 1. 2020